Dynamic and Adaptive Signage: We Make No Secret Of Our Signs
Up until now, fire design engineers and fire risk assessors when specifying some type of "Smart" Emergency Exit signage to stop people entering a building or exit, have had to rely on old tech, essentially what is known as "Secret Signs".
These are generally big black boxes placed above an exit door with an apparent dark fascia to the front. Once an alarm activation has occurred these boxes light up usually with a worded message such as "Do Not Enter".
Talking to architects and installers of this type of signage, they all commented that these signs are ugly and bulky and do not blend into the aspirations of the building design. The worded message can also present language barrier issues during an evacuation. Sometimes they must install this type of sign and an emergency exit sign alongside, so essentially two signs.
At Evaclite we make no secret of our emergency exit signs. They are constantly in view, providing a compliant sign at all times. They have the ability to adapt to a given emergency situation and if the exit is no longer viable then a Red Cross will automatically appear across the fire exit sign and flashing Red LEDs attract the eye to the sign's message. Similarly, if the exit is viable a Green pulsing arrow will appear within the white arrow pictogram of the sign. Being intuitive and with no words, they are easily understood by all languages.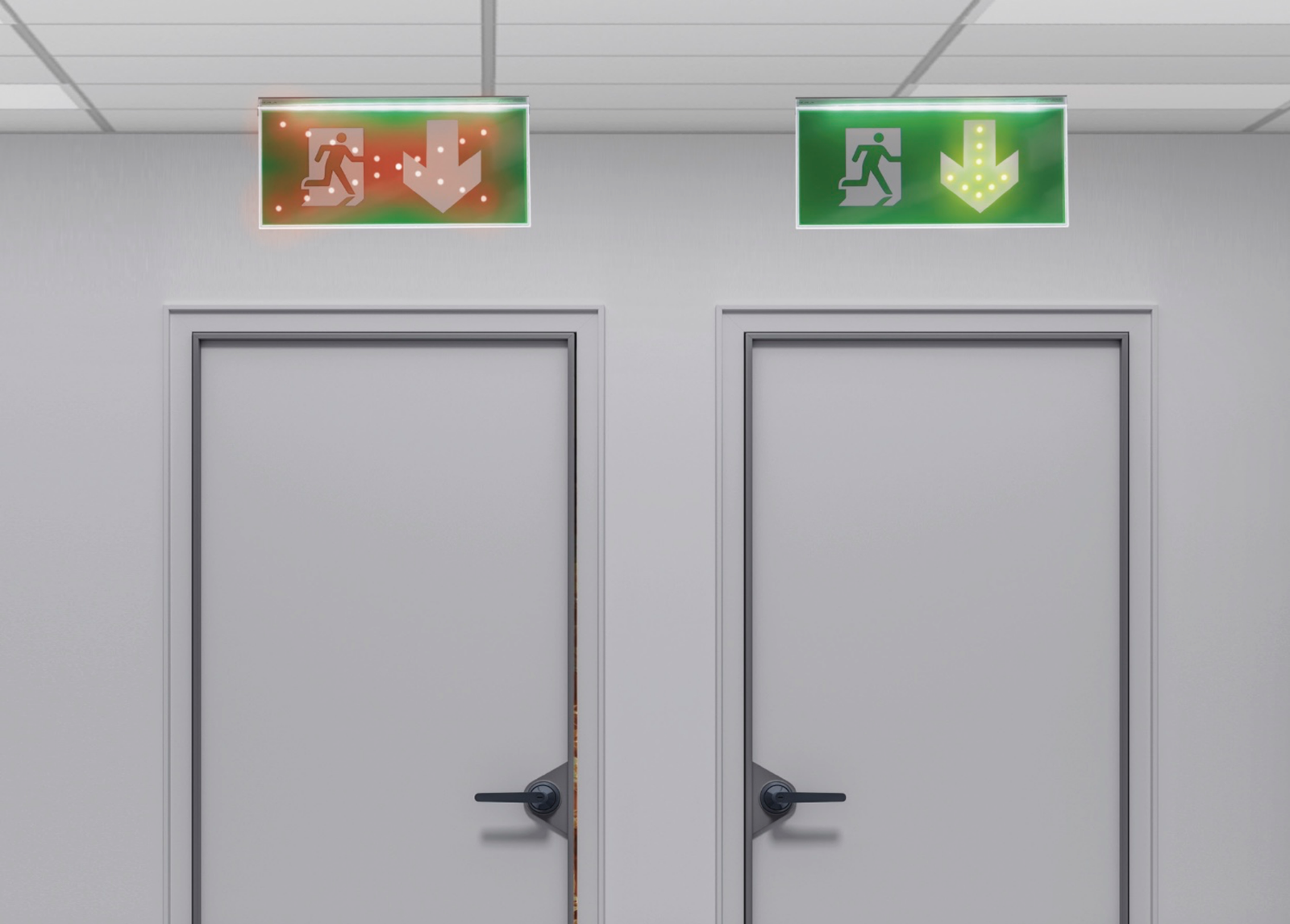 So no more big, bulky boxes hanging from your airport concourse or prestigious new apartment building. It's no secret that architects and installers prefer the Evaclite option. New IP65 signs are now available.
Want to discover why hotels are making the move to dynamic and adaptive signage? 
Download our free eBook: 'Dynamic Emergency Exit Signage: Why the time is now for the hotel sector' to discover the wider problems facing hotels and how they deal with some very practical customer experience issues.